Are you struggling to simplify your IT across multiple office locations?
The Dell PowerEdge VRTX is the world's first compact converged solution designed to be scalable, mobile and modular.
Dell PowerEdge VRTX Delivers
Ultra Compact

4x Servers (support for 8 Intel Processors)
Up to 48 Terabytes of Data
Integrated Network Switch
8 Standard tech Expansion slots
4 Integrated squirrel-case cooling blowers
4 redundant power supplies
In Just 5u Rack Space!

Eliminates Messy Cables

Integrated converged systems

Whisper Quiet for In-office Usage

Highly Efficient

26% lower cost of ownership for local usage*
54% lower cost of ownership for cloud usage*

Made for Mobility

Runs off a standard 110v outlet
Server storage, and network management run in one single software console
Build a Customized VRTX Today
Speak with a Converged Infrastructure Expert
Compact, Portable, and No More Cables!
Compress 4 servers into just 5u of rack space. The integrated network switch eliminates the need to acquire, cable, power and manage an external networking switch.

Rapidly deploy VRTX to consolidate and manage business application in up to four server nodes with shared storage and integrated networking. ideal for remote offices and branch offices of large enterprises and organizations as well as small and medium-business offices, it offers:
Huge internal capacities that support extensive growth
Office-level acoustics, quieter than a hallway conversation so it can operate non-disruptively, even in quiet environments
Fresh air validated configurations that allow you to avois the need for special cooling or worry whn you turn off the AC suring non-business hours
Standard power requirements found in most offices (110V-220V), which allows users to avoid the cost of rewiring for high-line power (typically required for servers and storage)
Front-access KVM, USB, LCD displa and optional DVD-RW
VRTX is also Rack-Mountable for added physical security
Agile, Versatile, and Redundant Out-of-Box
VRTX can be set up in under an hour
Full-functioned unified system management takes much of the time and effort out of systems administration and control. Deploy, monitor, update and maintain through a unified browser-based console that covers servers, storage and networking.
Open Manage essentials together with Chassis Management Controller (CMC) and Geographic View for VRTX enables you to keep an eye on everything in your VRTX platforms, anywhere on your network, allowing:
Support for more than 1,000 devices with the ability to launch an application that takes you into the CMC
Updating up to 36 severs in nine VRTX platforms simultaneously with only a single system reboot
Rapid, at-a-glance, map-based identification of remote system location and health status via color-coded icons
Consistency with CMC in the data center
Deploying new systems locally or across a network
Installing updates to firmaware, BIOS settings and drivers
Performing systems maintenance tasks and problem remediation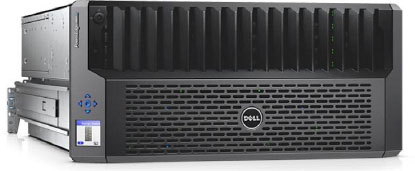 Uncompromised Power
Employing the latest Poweredge technology and high-availability features, VRTX can help you gain fast application response times, run multiple application that need performance or low latency, power through peak processing periods and scale for future business growth.
Performance and availability features include:
Up to four hot-plug Poweredge server nodes with flexible configurations that can mix and match 4-socket M360 blade options to meet your specific needs
Support for future-generation Poweredge M-Series blades
Dual SD cards for redundant hypervisors
Hot-plug and swappable HDDs
Many RAID options tailored to specific needs, including optional PERC for RAID controller failover inside the chassis
Optional hot-plug and swappable power supply unnits and fans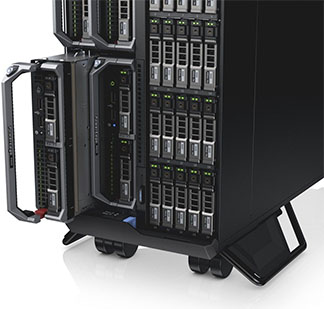 Modular and Scalable
All server node have access to the low-latency internal shared storage, which is essential for clustering and virtualization, including vMotion. This also helps enable efficient processing hrough peak periods and can improve server-use flexibility.
VRTX allows:
Eight-industry-standard PCIe Gen 2 slots which can be shared across the server nodes

Three full-height/full-length slots that support graphics processing units (GPUs)
Five small form factor (SFF) low-profile/half-length slots

Each server node to see the storage as its own singular storage pool
Assigning virtual disk to single server nods or across server nodes
Live migration of virtual machines within the VRTX chassis without the expense of cabling, powering and managing a SAN
Choice of up to 12 x 3.5" HDDs/SSDs(12TB* max.) to scale for capacity or up to 25 x 2.5" self-encrypting drives (SED)
External JBOD sonnectivity with up to four MD1200 (12 x 3.5" drive) or MD1220 (24 x 2.5" drive) disk arrays in redundant or capacity based configurations
Build a Customized VRTX Today
Speak with a Converged Infrastructure Expert
Tech Specs & Customization
Chassis
For factors:
Tower or 5U rack enclosure
Tower configuration:
48.4cm (19.1in)H with system feet x 31.0cm(12.2in) W
with system feet opened x 73.0 (28.7in) D
Weight (empty) = 31.7kg (69.7lb)
Weight (maximum) = 74.8kg (164.9lb)
Rack Configurations
21.9cm(8.6in) H x 48.2cm(19.0in) W x 73.0cm(28.7in) D
with system feet opened x 73.0 (28.7in) D
Weight (empty) = 24.7kg (54.5lb)
Weight (maximum) = 68.7kg (151.5lb)
Server node operations
PowerEdge M630 and M830 server nodes
Power
Redundant power supply units:
100V-240V aut-sensing redundant power supplies support 2+2 (AC redundancy), and 3+1 and 2+1 (power supply redundancy) modes
Cooling
VRTX comes standard with six hot-pluggable, redundant fan modules and four blower modules:
Based on Dell Energy Smart Technologies, VRTX fans and blowers are a breakthrough in power and cooling efficiency. Fans and blowers deliver low-power consumption and use next-generation fan technologies to ensure the lowest possible amount of fresh air is consumed to cool the enclosure.
RAID Controllers
Single shared PERC8 with optional second redundant share PERC8 available
Drive Bays
Up to 12 x 3.5in NLSAS, SAS, or SAS SSD hot-plug drives or
Up to 25 x 2.5in NLSAS, SAS, or SAS SSD hot-plug drives
Optional FIPS 140-2 certified self-encrypting drives (SED), up to 25 x 2.5 NLSAS, SAS or SAS SSD
Integrated Ethernet Switch
Internal 1GbE 8-port pass-through module
Internal 1GbE 24-port switch
I/O Expansion Slots
8 flexible PCI e slots:
3 full-height/full-length slots (150W) with double-wide card support (225W)
5 low-profile/half-length slots (25W)
Systems Management
Delivers comprehensive functionality yet simple and easy to use:
Uses Chassis Management Controller (CMC) to manage all resources (server nodes, storage, networking and power) with a unified management tool, presented in a single console
Monitors up to nine VRTX chassis from a single, consolidated CMC console.
Offers both Local and Remote management.
Is available with either enterprise or express CMC licensing for CMC.
Redundant Chassis Management Controller is available.
Server nodes each contain proven iDRAC7 with Lifecycle Controller for agent-free systems management that are fully-supported within the OpenManage product portfolio.
Rack Support
ReadyRails™ II sliding rails for 4-post racks with square, round, or threaded holes
Regulatory
Product Safety, EMC and Environmental Datasheets
Dell Regulatory Compliance Home Page
Dell and the Environment
Product Configurations
Supported operating systems:
Microsoft® Windows Server® 2008 SP2, x64, x86
Microsoft Windows Server 2008 R2, SP1
Microsoft Windows Server 2012
Microsoft Windows Server 2012 R2
Microsoft Windows Server 2016
Novel® SUSE® Linux Enterprise Server
Red Hat® Enterprise Linux®
VMWare® vSphere ESXi
Also supports Microsoft Exchange, Microsoft SQL Server and Microsoft SharePoint Server.
Back To Top