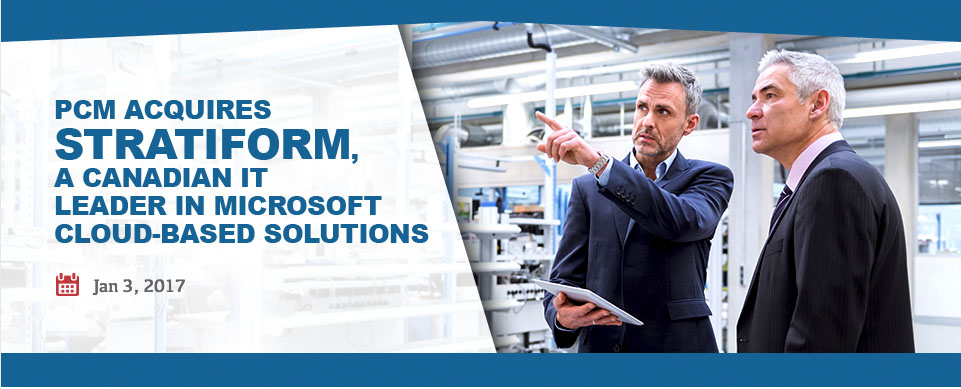 PCM adds strategic cloud-solution provider to its growing
Canadian practice
EDMONTON, Alberta, January 3, 2017 - PCM, Inc. (NASDAQ:PCMI) a leading North American technology solutions provider, today announced a strategic acquisition of Stratiform, Inc. (Stratiform), an industry-leading provider of cloud IT solutions that includes consulting, professional, and managed services to clients across Canada. Stratiform, an innovative Gold Certified Microsoft Partner, has proven capabilities specializing in Microsoft cloud technology, including Azure Cloud solutions, Office 365, and Enterprise Mobility Suite.
Stratiform's unique "build your business from the cloud up" consultative approach will significantly strengthen PCM's position as a leader in enterprise cloud solutions, further enhancing its ability to provide clients with best-of-breed cloud strategy, advisory, onboarding and migration services, as well as on-going cloud management services.
PCM expects Stratiform to serve as a cornerstone to PCM's strategic cloud and related solutions offerings and to quickly leverage its leading cloud expertise in Canada into the United States and other new markets, strengthening PCM's established leadership position as a key differentiator in the IT marketplace. The acquisition deepens PCM's relationship with Microsoft and other best-of-breed technology companies, and increases PCM's reach into SMB, Mid-Market, Enterprise, and Public Sector markets throughout North America.
Frank Khulusi, PCM's Chairman and CEO, stated, "The addition of Stratiform to the PCM family of companies reinforces our position as a leader of enterprise cloud solutions and services. We are thrilled to add the extremely talented Stratiform team to our Microsoft solutions focus, enhancing our Azure Cloud organization with new and innovative capabilities. Together, we are extremely well positioned to help our clients realize the business benefits of leveraging cloud technology both securely and strategically to maximize business value."
From a Canadian perspective, the addition of Stratiform's capabilities to Acrodex and TigerDirect Canada's established Canadian presence brings together three powerful brands that provide distinct value propositions to clients of all segments and industries.
"We are thrilled to add Stratiform as a part of our Canadian transformation," stated Phil Soper, President of PCM Canada. "Along with Acrodex and TigerDirect Canada, Stratiform propels us to the next level when it comes to delivering enterprise-class Microsoft cloud solutions. The Stratiform team have established themselves as dominant players in delivering cloud technology. That expertise, backed by the depth of Acrodex, TigerDirect Canada, and PCM, means we can assist our clients with a broad range of premier IT products, services, and solutions."
"We are very excited to be joining the PCM family. Our passion has long been to help our customers transform their businesses through the use of cloud technologies," stated Jordan Byman, President of Stratiform. "This acquisition represents an opportunity to accelerate our growth plans and expand the Stratiform brand and presence throughout Canada and the United States. By leveraging PCM's extensive customer relationships and operational scale, we can help even more customers transform their organizations."
For additional information, please refer to the PCM press release
About Stratiform, Inc.
Through a full suite of IT consulting services (including Professional and Managed Services), Stratiform specializes in designing, planning, and implementing Microsoft Cloud Solutions — Azure, Office 365, and EMS. No matter the solution, Stratiform focuses on helping clients achieve greater efficiencies through their Microsoft cloud investments. Visit www.stratiform.ca for more information.
About Acrodex, Inc.
Through uncompromising integrity, passion for our customers' success, and a commitment to excellence, Acrodex has proven their ability to offer flexible IT solutions that drive results. With over 30 years' experience in Information Technology, Acrodex serves large and mid-tier organizations through end user device lifecycle management, data center managed services, procurement as a service, software licensing, and cloud solutions. Acrodex operates as a wholly-owned Canadian subsidiary of PCM, Inc. Visit www.acrodex.com for more information.
About PCM, Inc.
PCM, Inc., through its wholly--owned subsidiaries, is a leading technology solutions provider to small and medium sized businesses, mid- market and enterprise customers, government and educational institutions and individual consumers. For more information please visit investor.pcm.com.